Technical products
To install RASTONE products we highly recommend to follow the suggested laying methods and to use our specific products: ECOCOLLA, ECOSTUCCO and ECORETE.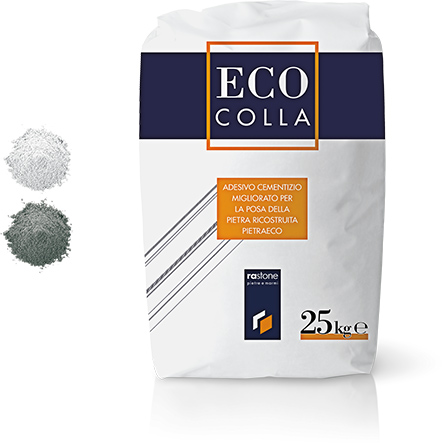 ECOCOLLA
ECOCOLLA is specifically designed as an adhesive for laying of PIETRAECO manufactured stone, for inside and outside use. ECOCOLLA is an improved cement-based adhesive, with good slip resistance, extended open time and high thixotropy. Available in 25 kg bags. Colours: WHITE or GREY. ECOCOLLA, when mixed with water, becomes a soft mixture that is very easy to apply. When combined with ECORETE fibreglass mesh, it is also a suitable adhesive for reinforced concrete skim coat consolidation of unstable substrates or for supporting reinforcement on external thermal insulation.
Download the ECOCOLLA technical sheet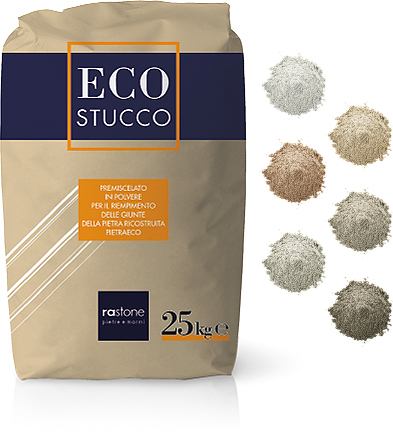 ECOSTUCCO
ECOSTUCCO is a specifically designed grout for PIETRAECO manufactured stones joints and is prepared on the basis of their characteristics. ECOSTUCCO is a pre-mixed powdered hydraulic binder based grout. Suitable for grouting indoor and outdoor manufactured stones joints. Available in 25 kg bags and a choice of 6 colours: BIANCO MALTA, BEIGE MARCHIGIANO, MARRONE TOSCANO, GRIGIO TERRA, GRIGIO SCURO e GRIGIO ANTRACITE. Its fluidity makes ECOSTUCCO suitable for application using a special piping bag to penetrate the joints fully. Does not drain, if prepared to the right consistency, and so does not dirty the stone. Does not shrink while drying and adheres perfectly to stone walls and substrates.
Download the ECOSTUCCO technical sheet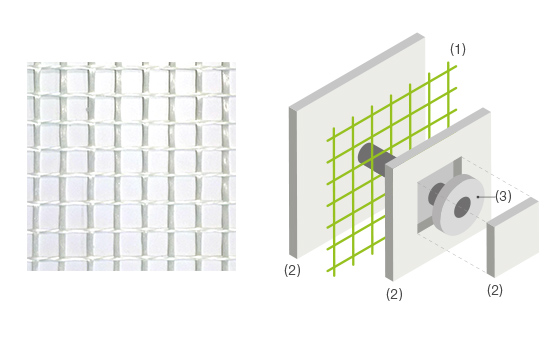 ECORETE
+ ECOTASSELLO
ECORETE is a fiberglass net with 16.7x16.1 mm mesh, with anti-alkaline coating treatment, with specific weight higher than 300 g/m². It is suitable for non-solid laying bases and with a mechanical strength that is not sufficient to support PIETRAECO manufactured stone covering. ECORETE (1) has to be drowned in a double skin coat of ECOCOLLA (2) and properly fixed with plugs (ECOTASSELLO) (3), 4 to 7 pieces per square meter may be required according to the product selected and the laying bottom.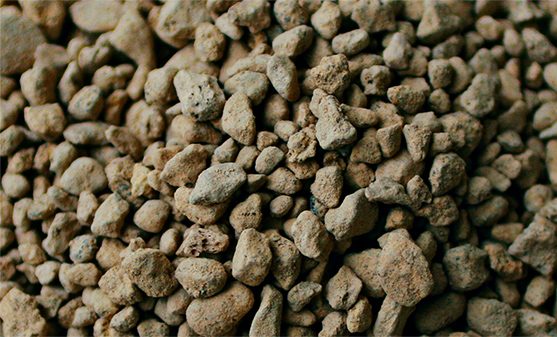 Grana grossa
3/8 mm large grain Volcanic Inert. To get a far rougher effect, like ancient stone walls, mix volcanic inert into our ECOSTUCCO. One 7.5 litre bag of inert into a 25 kg bag of ECOSTUCCO.