PietraEco reconstructed stone in a natural and green setting
The residence with its classic and linear architecture in a green and natural setting is embellished thanks to its external walls in PietraEco ecological reconstructed stone, giving it a both rustic and refined style.
The aesthetic aspect of its unique beauty and the strong emotional impact of the external walls in reconstructed stone create a family environment, where you can feel at home and where every day the encounter with nature is close and intimate.
Rastone reconstructs as nature creates. The productive process for the realization of PietraEco ecological reconstructed stones, improved over the years, enables the creation of true reproductions of natural stones, where every their value is enhanced and every defect is cancelled.

The external walls of this residence, realized with reconstructed PietraEco, are unique. Every detail, such as color, is handcrafted by Rastone professionals in order to create unique stones.
Regarding the realization of external walls in reconstructed stones of this residence Rastone's aim was creating a perfect stylish harmony between the natural setting and the house.

The laying of PietraEco reconstructed stone type rupe in mixed colors was given in the expert hand of Rastone professionals. Thanks to their wisdom and their art cultivated and fine-tuned over the years, they were able to create a perfect mosaic of stones, carefully placing them according to colors and shapes.
PietraEco reconstructed stone is functional and practical, ideal for the realization of external and internal walls of modern ecological and eco-friendly houses.
The external wall of this house made with PietraEco is eco-friendly. The reconstructed stone can preserve and protect the environment, limiting the excavation of natural stone and it is ideal as coating on thermal insulation.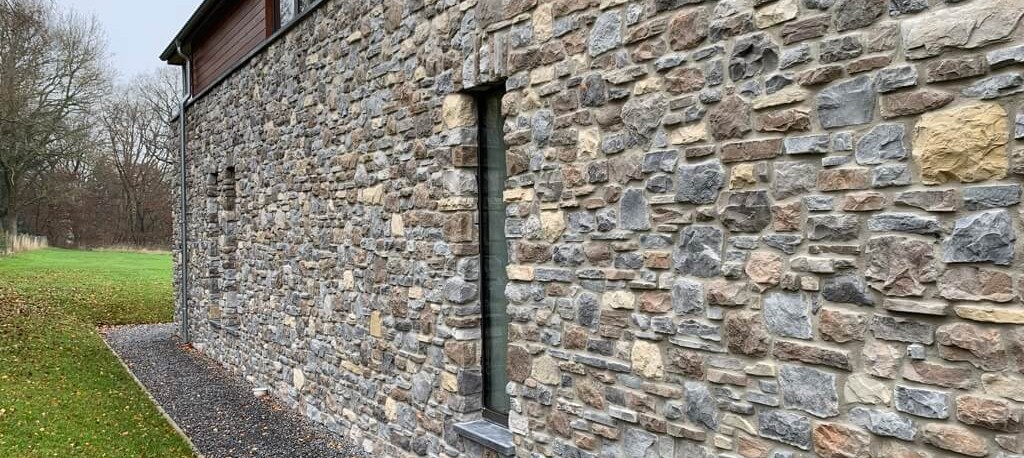 Type: coating of external walls
Location: private house

Model: pietre irregolari rupe
Colors: mixed
Services: technical advice, supplying and laying